E.

Capture Students

You can capture registered users in your school. That means your students must have an account on our system before capturing them in your school.

In the following image you will see how your students can create their accounts: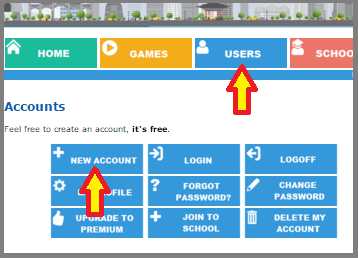 All your students (captured) will enjoy a premium account. That means:
Access to all games.
Access to extra content.
Personal statistics available.
Change their belt color.
No ADs.
View their school and classroom rankings.
There are 2 methods to capture (add) students to your school:
Method 1: Direct capture
To capture a student you need the 'User name' and 'Email' he used to create his account.
Follow these steps to capture students:
1 Log in as administrator.
2 Go to 'Students' tab and click on 'Add Student'.
3 'Search' the student by 'User name' and 'Email' and click on 'Save'.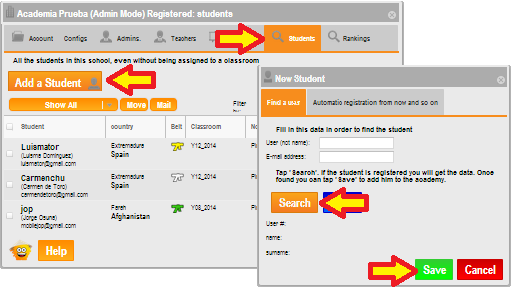 Method 2: Students join directly
In the case you have a lot of students to capture, there is an alternative to make things easier to administrators-teachers.
Students can join directly to an school if they know the School ID and the required pass-key.
Follow these steps to proceed with this method:
1 Log in as administrator.
2 Go to 'Configs' tab.
3 Type a secure pass-key (e.g. 'my-pa$$-key')
4 If you want, the main administrator can receive an e-mail each time an student is added to the school by selecting 'Receive confirmation e-mail = Yes'.
5 Activate (or desactivate) this method under 'Activate this system'.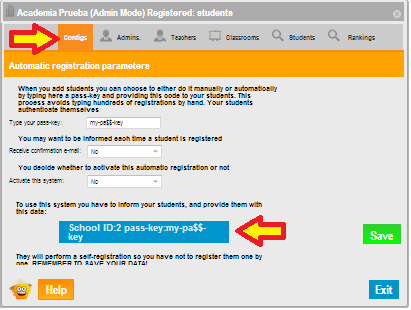 6 Inform your students they can join the school under 'Accounts' > 'Join an active school' by using your School ID and Pass-key.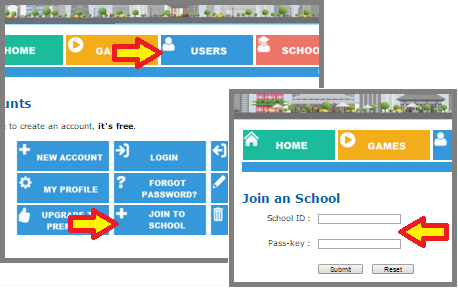 IMPORTANT: To play games you need a student account (administrators and teachers are not consider as users, they need a student account and they can be grouped under a classroom named 'Teachers').